| | | |
| --- | --- | --- |
| | Regular Columnists | |


CD REVIEW: Ron Ziai - Ron Ziai
By Alex Jasperse - 02/21/2009 - 05:18 PM EST
Artist: Ron Ziai
Album: Ron Ziai [2009]
Label: Independent
Website: http://www.myspace.com/ronziai
Genre: Progressive Rock and Instrumental Rock
Production/Musicianship Grade: 9.5/10
Songwriting Skills: 9.5/10
Performance Skill: 9.5/10
CD Review:

Put four of the best progressive rock musicians in a room, ask them to come up with an album, and in no time they'll probably produce one. Course, it'll be chalked full of competing musical interests, clichés, obscene time signatures, mind-numbing lyrics, spectacular production and the best instrumentation available that's powerful enough to send their fans into a music-induced coma. Now put one incredibly talented progressive rock musician in a room and ask him to come up with an album, and you'll only have to worry about him having to out-do himself.

Aside from the drawback of the latter being a monumental task that will no doubt take more time, the potential of the work of one highly-talented musician to expand the genre also has the power to result in something so real and pure. And that's where the work of Ron Ziai comes in: devoid of progressive pretension, submission and complacency, it is an album epic in scope and passionate in its execution.

Never adding too much to the point where I want to throw up my hands and fling the album across the room to test the aerodynamics of the album, Ziai weaves together a diverse range of progressive rock isms that are easily described in relation to the likes of Devin Townsend Band, Katatonia, Spock's Beard and The Tea Party. Ziai is aggressive, raunchy, brutal, hardcore, chill, atmospheric and just a tad off kilter, in the best of sense.

Confrontational in pieces such as "Burn in my Dreams" and completely non-confrontational in the utterly hypnotic "Can't Come Down", while treading into the forays of hard hitting riffs used by his peers, Ziai represents a pure, atmospheric journey that prides itself on its auditory detailing.

Be it a melody, or a vocal hook that stands out (or both simultaneously in pieces such as "Southerland"), Ziai has finely crafted each song with an emotional weight that will appeal to all walks of the progressive world. Overall, it is the perfect balance of art – virtuosic and glorious instrumentation tinged with a touch of genius. Doesn't get much better than this.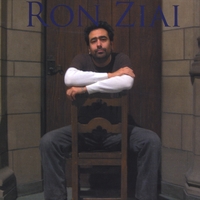 The Verdict: 9.5/10

For more information, please visit Ron Ziai's myspace page.







[ Current Articles | Archives ]