What is the one skill that all your guitar students need to understand in order to grow into top tier musicians fast? It's not technical playing ability... it's not music theory skills... Think it's ear training? What about developing super-fast speed?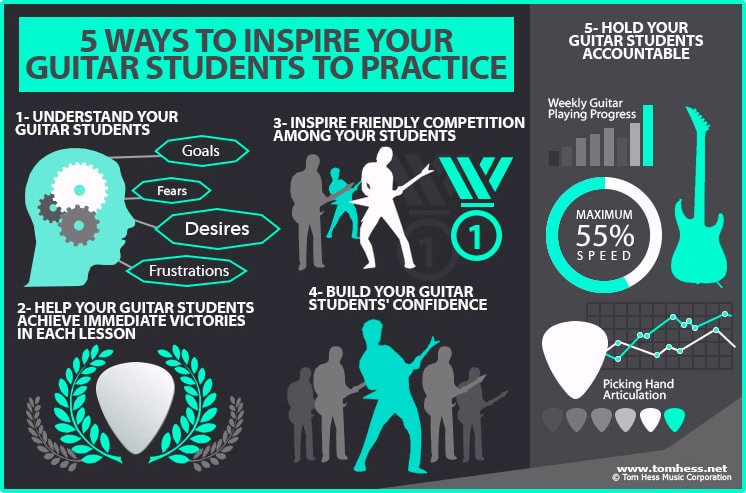 Answer: it's none of these things.
The single, most important skill they must learn from you is how to practice guitar efficiently.
Truth is, your guitar students do NOT grow into excellent guitarists during the time they spend in lessons with you. The real way they make progress is by practicing correctly at home in between lessons. Unless you get your students to continually practice at home, their guitar playing will not progress very quickly at all. This situation causes many students to give up on lessons and makes you look like a bad guitar teacher.
Before reading this article, finish this 2 minute test to understand how good you currently are at teaching your guitar students how to practice effectively. Once you've done this, continue reading below to learn the main steps for improving this area of your guitar teaching.
Here are five fundamental keys for inspiring your guitar students to practice:
#1: Really Get To Know Your Guitar Students
The number one guitar teachers in the world fully know that they don't just teach guitar... they teach people. This means that they have a real passion for the growth of their guitar students, want to know how they think, and want to understand their musical desires, plus why they have them. Every student you will ever have gets inspired from all different kinds of things and possesses unique reasons for wanting to play guitar better. Knowing them will help you meet their needs during lessons.
As soon as your guitar students observe that you understand them and think that you are truly interested in watching them succeed, they will gain significant trust in you and want to do the things you tell them in order to get better. This is extremely important for building a foundation for motivating them to practice at home.
This influence will be much greater when your guitar students can observe a crystal-clear connection between practicing guitar and getting big results. I'll speak more about this in just a moment.
#2: Inspire Your Students Through Small Victories
Your students must understand how to practice every single thing you teach them. Whenever you teach something new (or that can be integrated with a separate concept), quickly show them how to effectively practice it at home so they can understand the best way to improve on their own.
By doing this, you achieve the following positive goals:
1. Your guitar students get to feel the feeling that comes with gaining instant results during the lesson. This will make them feel excited about making progress, and inspire them to practice at home.
2. Your guitar students will learn what it means to practice guitar correctly. As your students are practicing right in front of you, you can see their mistakes, help them fix them and improve the chances of them practicing more effectively at home.
Most teachers do not do this... instead they simply cram as much information as possible into each lesson. Other teachers think that telling their guitar students what to do is the same as "teaching them how to practice effectively".
This extremely common guitar teaching mistake ensures that the majority of your students will both: not make progress at home because they practice incorrectly AND not make overall progress, becoming frustrated (and quitting). By not making any progress, they will become less and less motivated to practice guitar and get better in the future.
To learn more about how to solve this problem and get your students to become better guitar players in every lesson, check out this article about how to teach guitar students to practice effectively.
#3: Inspire Your Students To Compete (In A Friendly Way)
Once a student of yours observes the massive progress being made by another student you teach, they will feel a need to prove themselves or push themselves to do better. Take advantage of this natural sense of peer pressure by pushing for a healthy competition amongst your students. Talk to everyone about your very best students and how they became great players so fast... plus how your other students can do the same when they follow the things you say.
The most effective and simple way to promote this kind of friendly competition among your students is to teach them in a class setting rather than exclusively in a one on one setting. Use group classes to give your students much more motivation for practicing guitar so they can get better quick.
To learn much more about how teaching group classes will grow your guitar teaching effectiveness (and income) see this video about building a successful guitar teaching business.
#4: Create A Massive Snowball Effect
In addition to showing your students how to practice the right way, you have to boost their self-confidence. To accomplish this, you must continually get them to understand the clear cause and effect relationship between proper practice and increasing guitar playing skills. When you teach your guitar students how to practice the right way, and give them small victories, remind them:
1. Their guitar practice is paying off and helping them become better players.
2. What and how you tell them to practice is moving them in the direction towards reaching their highest guitar playing goals.
This kind of positive mental reinforcement will gain your student's trust and make them feel inspired to keep practicing.
#5: Show Proof Of Your Student's Results By Tracking Their Progress
It's common that your students won't practice because they don't know how much progress they've made since taking lessons with you. To solve this problem and inspire them to practice, track and measure their progress in every aspect of guitar playing and keep them up to date on the amount of progress they've made. This is a highly effective way of showing them the proof that their practicing has helped them advance, causing them to feel motivated to practice more.
A huge benefit (for you) of this is, when your students see that they've progressed with you and feel motivated to practice more, they stay with you longer.
To learn the most effective way to track musical progress for guitar players, check out this tool for improving your guitar playing fast.
By applying the 5 critical keys I've discussed in this article, your students will practice more at home and make better progress. Result: you will quickly gain a highly positive reputation for being the best guitar instructor around.
To get more help with coaching your students to practice more effectively, complete this short test about teaching your guitar students to practice effectively.